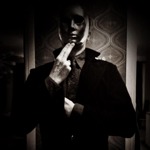 The ancient Art of Poetry can be seen as the most powerful source for hidden secrets.

Carolvsivs is one of Lamechs first non-musical acts. He is an artist where he only let his words do the talking.

The first work which will be published when the time is right, will be a collaboration with 109 Art, where images meets the words.

Silentium est aureum.
Sophia - Bound leather cover book