Sacred is the legacy of the Serpent!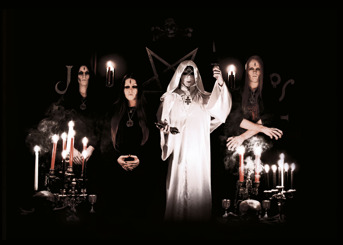 Hetroertzen is a Black Metal band formed in 1997 by Frater D. The group originated in Puerto Varas, Chile and by 2009 had relocated to Västerås, Sweden.
Hetroertzen was initially a solo project until Frater D. decided to make a band of it and so joins guitaristÅskväder the band in September 1999. During their first ten years of existence, a couple of albums were recorded and a handful of gigs were performed in their homeland of Chile. Various line-up changes occurred as well.

The band had a brief hiatus for various reasons, but in 2009 after resurfacing in Sweden and the city of Västerås, Hetroertzen's first proclaimed full length album 'Exaltation of Wisdom', was recorded at the bands own studio. The line-up was then Frater D. on drums, bass and vocals and Åskväder on guitars.
'Exaltation of Wisdom' was at first released on LP by Lamech Records and was limited to 500 blood-numbered copies. In November 2011 Hetroertzen performed 'Exaltation of Wisdom' in its entirety in their most important performance thus far; a rather special event called 'Arosian Black Mass', where the band received highly positive critique from attendants. The band had the help from Kfzl on bass and Garghuf on drums. After their live debut at 'Arosian Black Mass', some line-up changes occured, and Anubis gets involved in the band as guitarist.
At the beginning of 2012 Frater D., Åskväder and Anubis went on to record new material for what would be used for a split album together with Norwegian devotees Dødsengel. The split, under the title Capax Infiniti, gained much regard in terms of acceptance from the audience from all around the world, as well as in terms of sales.

In October 2013 the band went out on their first ever tour, alongside black metal legends Troll and Dødheimsgard. The tour was a success for the band and they won over countless new fans from all around Europe.

During 2014 Hetroertzen recorded material for a new full length album which allowed them to stretch the boundaries of their already unique sound. Ain Soph Aur saw the light in December 2014 receiving a great response from the devotees and the media. Ain Soph Aur was released on all format by the collaboration of Lamech Records, Terratur Possessions and Amor Fati Productions.

At the beginning of 2015 Ham joins the band as a permanent bass player.
In the fall of 2015 Hetroertzen conquered USA for the first time and performed two very exclusive shows in New York and Baltimore along with Ominous Resurrection and their brethren LvxCaelis.
Also in 2015 the band confirmed to do their second European tour in October along with French devoteesMalhkebre and Malepeste. The tour was baptised as Exaltation, Revelation, Dereliction tour and reached different cities around France, Belgium and the Netherlands.

During 2016 Hetroertzen has been focusing mostly on the composition of their upcoming album, which is scheduled to be released in early 2017 by veterans Listenable Records.

Avernal Mystic Black Poetry - Demo (2001)
Flying Across the Misty Gardens - CD & LP (2002-2004)
A Crimson Terrible Vision – CD (2003)
Rex Averno – CD (2005)
Exaltation of Wisdom – LP & CD (2010-2011) Re-issue on CD (2014)
Capax Infiniti - Split LP & CD (2013)
Ain Soph Aur - LP, CD, MC (2014)
Uprising of the Fallen - LP, CD, MC (2017)
Flying Across the Misty Gardens - Anniversary edition CD & LP (2018)
LVX IN TENEBRIS TOUR 2018
Hetroertzen + Sektarism + LvxCaelis

27.09 - (FRA) Paris @ Gibus.
04.10 - (CZ) Prague @ Underdogs
05.10 - (GER) Zwickau @ Club Seilerstrasse.
06.10 - (AT) Innsbruck @ Livestage. (+ Portae Obscuritas)
...and more TBA.
Hetroertzen - Exaltation of Wisdom
"...Now it has passed I am looking back on 2010 as a vintage year for the underground. There was a deluge of excellent releases by excellent bands right through the year. One of the very best, and probably my personal favourite was Exaltation of Wisdom. Not only does it represent the darkness that keeps Black Metal alive in such a tremendous way but it also casts the listener into a timeless void of deep thought and reflection..."
Waffen, 2010. Hell Furnace Webzine.


Hetroertzen - Exaltation of Wisdom
Masterful Occult Black Metal - 94%
"...This album has everything that the true black metal should have: decent compositions, excellent musicianship, thoughtful lyrics and serious approach to the recording and mixing process with the retention of characteristic rawness of the sound and the creation of great magical atmosphere. Recommended to everyone looking for serious occult black metal..."
Fulgurius, December 13th, 2011, Metal-archives.


Hetroertzen - Ain Soph Aur. 85%
"...'Ain Soph Aur' is an ambitious release, adding variations in tempo and vocal style to Hetroertzen's now characteristic sound that was undoubtedly perfected on 'Exaltation of Wisdom'. There is even some genre crossover to be discovered, as the mid-tempo offering, "The Luminous One", is surprisingly evocative of death metal Egyptologists Nile. As expected for this release, the layout, design and artwork supplementing the band's brand of ritual noise is suitably esoteric, appearing and reading like an ancient occult tome..."
Torchia, January 26th, 2015, Metal-archives.


Hetroertzen - Ain Soph Aur.
"...This album is essential. I waited quite some time to hear it and when I did I was not in the slightest bit disappointed. It not only met my own personal expectations, it exceeded them. I do think that for many people it might take a few attempts to get into as its presentation may come off as a bit eccentric to a lot of listeners. On all levels this album couldn't possibly be more genuine and sincere. There's no posturing or lying to be found. "Ain Soph Aur" does its title justice and comes very, very near to perfection.
Sacred is the legacy of the Serpent..."
Anti-matter, January 13th, 2015, Plague Haus webzine.


Hetroertzen - Ain Soph Aur.
"...Now as for the music I am totally bewitched by variousity and complexity at the same time. It is even hard to focus where to start with description of this masterpiece. I think it is one of the best releases in the last year, not quite sure if any other record was quite shocking with its maturity and diversity...."
Terror Cult Prod, July 23th, 2016. Terror Cult Zine.