HETROERTZEN / DØDSENGEL - Capax Infiniti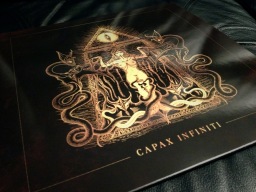 Band: HETROERTZEN/ DØDSENGEL
Title: 'Capax Infiniti'
CAT nr: Lamech2214 - CH011
Year: 2014
Format: Digipack CD
Special edition: No

Tracklist:
1. Hetroertzen - Ardetha
3. Hetroertzen - Blood for the Egregore
4. Dødsengel - By the Hands of Nihil
5. Dødsengel - The Consecration of Man

Line up Hetroertzen :
Frater D. – Drums, Bass & Vocals
Åskväder – Guitar
Anubis – Guitar

Line up Dødsengel:
Malach Adonai – Drums
Kark – Vocals, Guitars, Bass

Additional information:
Co – released with Canonical Hours.
Majestic essence of Ancient vibrations.
Two of the foremost and exciting groups conjoined in one Sacred Work.
​HETROERTZEN / DØDSENGEL - 'Capax Infiniti' CD - Digipak CD
Price:
125 kr
Inc. 25% Tax
Out of Stock