SAPIENTIA- Through the first Sphere of Saturnus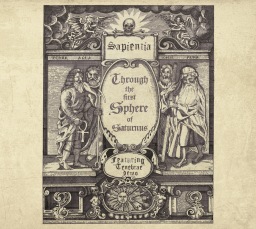 Band: SAPIENTIA
Title: 'Through the first Sphere of Saturnus'
CAT nr: Lamech 2215-Gnosi I
Year: 2014
Format: Digipack CD
Special edition: No

Tracklist:
1. OVERTURE / PRIMEVAL OCEAN
2. AGNOSCO
3. SPHERES
4. 32
5. AD INFINITUM
6. PRIMEVAL OCEAN / SAPIENTIA TENEBRAE
7. AGNOSCO / SAPIENTIA TENEBRAE
8. AD INFINITUM / SAPIENTIA TENEBRAE

Line up:
Anubis - Guitars & Vocals
M. - Bass & Vocals
Frater D. - Drums

Additional information:
Co - released with Clavis Secretorvm.
This CD version features the unreleased demo 'Sapientia Tenebrae' (tracks 6-8).
Includes lyrics sheet.
Artwork and layout by 109 Art.

'Through the first Spehere of Saturnus' was recorded at Hyperborea Studios in October year 2012. Remixed & remastered in March 2013.
SAPIENTIA - 'Through the first Sphere of Saturnus'Digipak CD - Digipak CD
Price:
125 kr
Inc. 25% Tax
Quantity:
In Stock