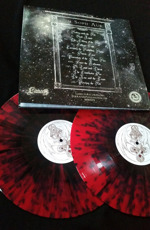 We are proud to present Hetroertzen's latest album 'Ain Soph Aur', available today.
Order it through our webshop.
Limited Shirt bundle is available as well!

DISTROS:

LAMECH RECORDS / SWE
TERRATUR POSSESSIONS/ NOR
AMOR FATI PRODUCTIONS /GER

IRON BONEHEAD /GER
VÁN RECORDS / GER
MALIGNANT VOICES /POL
BLOOD MUSIC / USA
PARAGON RECORDS /USA
TRIUMPH OF DEATH /AT
ESSENTIAL PURIFICATION RECORDS / AT
NEW ERA PRODUCTIONS/ NL
HATSK /CH
DUCE DISTRO / RUS
SALVATION DISTRO / USA
LA ESFINGE DE LA CALAVERA DISTRO /SPA
APOCALYPTIC ZINE PRODUCTIONS / CL
ARSENESTRE / FRA
KUNSTHAUCH /RUS

…And more distros to be confirmed!
Read more »
A sneak peek of what is about to come. In no particular order...

HETROERTZEN
"Exaltation Of Wisdom"- MC edition.

MYSTRUIN
"Calcination" - CD / LP. New album!

VELUM
"TBA" - CD / LP / Special Edition. New album!
....and more....