DIE KUNST DER FINSTERNIS - Das Geheimnis des Vampirs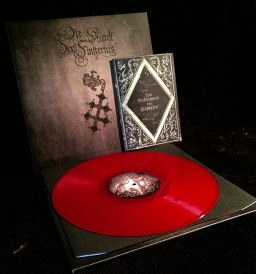 Band: DIE KUNST DER FINSTERNIS
Title: ' Das Geheimnis des Vampirs'
CAT nr: LAMECH 2208 - ToD 003
Year: 2013
Format: LP
Special edition: No

Tracklist:
1. OF PRIESTS AND SNAKES
2. FLAMING HEARTS
3. IN TENEBRIS
4. RAISING ABOVE THE ANGELS
5. THE GRAND MYSTERY OF DEATH
6. HOLY BLOODSTONE
7. DAS GEHEIMNIS DES VAMPIRS / ORATORIUM

Line up:
Frater D. : All instruments

Additional information:
Co-released with Triumph of Death.
Heavy red 12'' vinyl with an A5 deluxe booklet including lyrics.
The vinyl version is SOLD OUT from Lamech Records!

DIE KUNST DER FINSTERNIS - Das Geheimnis des Vampirs CD - A5 digipack CD
Price:
130 kr
Inc. 25% Tax
Quantity:
In Stock