LVXCAELIS - Mysteria Mystica Maxima 23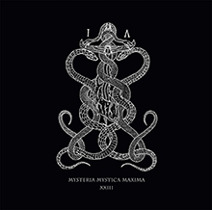 Band: LVXCAELIS
Title: 'Mysteria Mystica Maxima 23'
CAT nr: LAMECH 2205
Year: 2014
Format: Gatefold LP
Special edition: No

Tracklist:
1. Under the nine Rays of Darkness
2. Summoning Ceremony
3. Ascending through Eternal Fire
4. Heaven & Hell
5. Pvrificatio (Liberate Me!)
6. Mass for the Master
7. Come Forth from the Abyss
8. Slaughtering of the Lamb
9. Cross Initiation
10. I have seen the Light

Line up:
Magister I. - 6 Strings Ceremonies.
Frater C. - Percussive Incantations.
Frater A. - 5 strings & Voices.

Additional information:
Co-released with Amor Fati Productions.
Silver/black splatter vinyl, 350 g gatefold cover. Inside flooded in black. UV gloss varnish. Includes an A4 insert with lyrics.

LVXCAELIS - 'Mysteria Mystica Maxima 23' LP
Price:
189 kr
Inc. 25% Tax
Quantity: