LVXCAELIS - Mysteria Mystica Maxima 23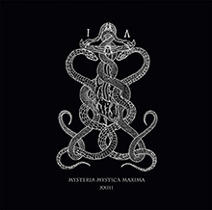 Band: LVXCAELIS
Title: 'Mysteria Mystica Maxima 23'
CAT nr: LAMECH 2205
Year: 2012
Format: Digipack CD
Special edition: Yes

Tracklist:
1. Under the nine Rays of Darkness
2. Summoning Ceremony
3. Ascending through Eternal Fire
4. Heaven & Hell
5. Pvrificatio (Liberate Me!)
6. Mass for the Master
7. Come Forth from the Abyss
8. Slaughtering of the Lamb
9. Cross Initiation
10. I have seen the Light

Line up:
Magister I. - 6 Strings Ceremonies.
Frater C. - Percussive Incantations.
Frater A. - 5 strings & Voices.

Additional information:
Co-released by Lamech Records and Barghest.
Presented in a glossy black and silver 8-panel Digipack CD, featuring lyrics & symbolic artwork by 407 Art.
Special Edition limited to 23 hand numbered copies. Comes in a luxurious handmade black box, including the "Apocalypse of Lucifer" written by Rev. William Sheraton, a velvet bag, special incense & candle.
The Digipak version is ​SOLD OUT from Lamech Records!
LVXCAELIS - 'Mysteria Mystica Maxima 23' LP
Price:
189 kr
Inc. 25% Tax
Quantity: