LVXCAELIS - Nigredo / The Dead Head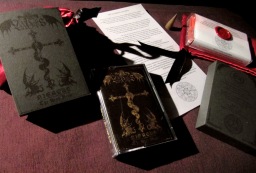 Band: LVXCAELIS
Title: 'Nigredo / The Dead Head'
CAT nr: LAMECH 2202
Year: 2010
Format: MC
Special edition: Yes

Tracklist:
1. Under the Nine Rays of Darkness.
2. I've Seen the Light...
3. Summoning Ceremony.
4. Come forth from the Abyss.
5. Putrefactio

Line up:
Magister I. - Guitars.
Etlidur - Drums.
Magus Pervertvm - Session Vocals.

Additional information:
Rehearsal demo released as pro-tape limited to 333 hand-numbered copies. 33 of these copies come in a luxurious packaging with special content.
Recorded at Hypernotia Studio year 2007.
​SOLD OUT from Lamech Records!