LVXCAELIS - Slaughtering of the Lamb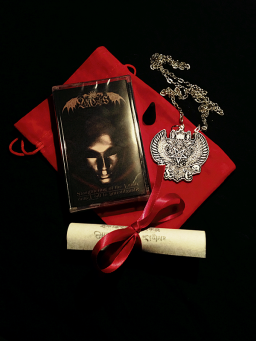 Band: LVXCAELIS
Title: 'Slaughtering of the Lamb'
CAT nr: LAMECH 2213
Year: 2014
Format: MC
Special edition: Yes

Tracklist:
1. Temple of Eternal Glory
2. Burning into the Light
3. Darkening Sun. Evolving Chaos
4. The Veil of Death
5. Come forth from the Abyss (live)

Line up:
I. (Guitar & Vocals)
Frater N. (Guitar)
Frater C. (Drums)

Additional information:
Tracks 1- 4 were recorded by LvxCaelis, 29th of December 2013 in Santiago, Chile.
Edited, mixed and mastered at Hyperborea Studios, Sweden.
Intro by Frater D.
Artwork and Layout design by 109 Art.
​SOLD OUT from Lamech Records!
LVXCAELIS - 'Mysteria Mystica Maxima 23' LP
Price:
189 kr
Inc. 25% Tax
Quantity: