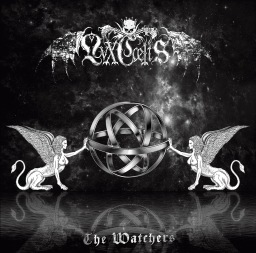 Band: LVXCAELIS
Title: 'The Watchers'
CAT nr: LAMECH 2218
Format: CD/LP/ DIGITAL
Special edition: Yes

Tracklist:
1. Draconian Offspring
2. Enochian Vision
3. Temple of Eternal Glory
4. A port to the Sky
5. The Watcher
6. Burning into the Light
7. Darkening Sun. Evolving Chaos
8. The Veil of Death

Line up:
Magister I. : Vocals & Guitars
Deacon D.: Drums
Frater H.: Bass

Additional information:
LvxCælis new full length will be soon be available through Lamech Records. It will be released on a deluxe Gatefold LP,Digipak CD and digital. ​The vinyl version will be pressed on heavy weight 180 grams vinyl, both on black vinyl and A side/B side bone colour / black vinyl. The outersleeve is 350 grs and everything is packed in plastic overbags.
Eight pumelling spells of mystical black heavy rock 'n' metal!
LVXCAELIS - The Watchers Gatefold LP (BLACK)
Price:
160 kr
Inc. 25% Tax
Quantity:
In Stock