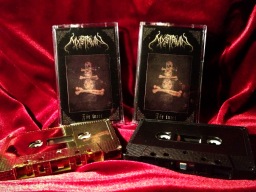 Band: MYSTRUIN
Title: 'För intet'
CAT nr: Lamech 2210
Year: 2014
Format: Pro tape
Special edition: Yes

Tracklist:
1. Människosläktets förfall
2. Dysterhetens gastar
3. Left to Be Devoured by the Night

Line up:
Ghast - Vocals
Gillerström - Guitar
Hraesvelgr - Guitar
Impavidum - Bass
Lazarus - Drums

Additional information:
Pro tape, limited to 100 standard black tapes.
Special edition limited to 18 copies
Artwork by 109 Art.
​SOLD OUT from Lamech Records!